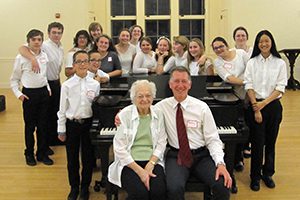 Psalm 96:1-2,11-13 | 1 John 2:18-21 | John 1:1-18
O sing to the Lord a new song; sing to the Lord, all the earth.
Sing to the Lord, bless his name; tell of his salvation from day to day. Let the heavens be glad….
It has been said that when you sing a hymn at church you actually are praying twice… and let me tell you I plan to use that loophole at the pearly gates. Music has always been an integral part of my life. In my youth it created small soundtracks to the drama of school. Then it was just a simple montage of scenes that I believed had no meaning. They did have meaning I just did not understand at the time. As I grew older, and not so much wiser, those thoughts faded. Eventually they fell to the wayside to just live on the radio dial on the way to here and there. At times the sounds would drift and mix with the sound of the wind to call me back, but once more I did not answer. Yet music kept trying, and once again it regained its place in my soul when I crossed the threshold of St. Luke's. It was not a gradual step but rather a full attack on all my senses. After all it is the power of music not only to carry one directly into the mental state of the composer, but to gather and raise us up into a feeling. But that's not all, it also has the power to push and pull, eventually leading one to step into one's faith. My wife and I entered St. Luke's searching for I don't know what, at least that was the case for me. The music made her return to church that much easier as she found a community that she shared a gift or passion with. As for me it was an unknown pull that would not only teach me to read the sound that floated from its choir loft to raise up a congregation, but to most importantly allow me to enter into the lives of the most interesting people I will ever meet …The St. Luke's children's choirs. In their eyes, in their strength to perform, and in their voice I saw the power of faith. Each new child I met as they entered the Angel choir brought forward a new song to the Lord. In the hymns I saw my own children be guided by directors who taught them passion, discipline, kindness and respect. Unlike algebraic formulas these lessons remain strong and grow with every note. All their songs now reside and travel with me as part of my soundtrack… I've been fortunate that way. 
Each service is a new song. A new chance to let the heavens rejoice and let the earth be glad.  Is a call to come out of the cold darkness into the warmth of the light… and sing for joy even in these trying times.  
A few years ago I was in the middle of 130 glorious voices singing an Evensong and my faith grabbed onto a few lyrics that served me well when the pandemic visited me. 
The stars have disappeared, and distant lights are dim,
My soul is filled with fears, the seas are breaking in.
I hear the Master cry, "Be not afraid, 'tis I,"
And the storm is passing over, Hallelujah!"
Then I finally understood. You may question the strength of a hymn against that of a sermon or reading and grade their effects on you. A hymn at least for me carries the weight of my faith. It is the sound of my joy, my grief, my anger, my fear, my agitation in the now and not in the distant past or future. After all music sets your mental stage and pushes your soul to march, to dance or take communion. This in the end brings you face to face with the fact that you are the Lord's new song brought forward to rejoice in his creation.
Geo Borgia
We are so pleased you have joined us online at St. Luke's.
And, we invite you to make a Special Christmas Gift Offering to help us
continue our outreach efforts, especially during the pandemic.