God will walk the path with you
December 10, 2021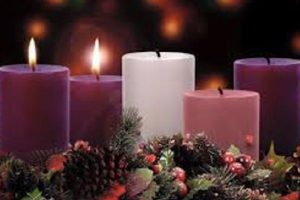 Thus says the Lord, your Redeemer, the Holy One of Israel: I am the Lord your God, who teaches you for your own good, who leads you in the way you should go.
The above words are hard to swallow. God teach us for our own good and leads us the way to go. You may be thinking of all those really tough times you had to deal with like death of spouse or one that you love, your child failing in school, you lose your job and many other things life has brought you. Now you are thinking for my own good that just does not make sense. It certainly did not make sense to me 5 years ago when I lost my husband. I remember think what's up God? How and where are you and why did this have to happen? I probably won't ever know really know the why, because honestly does it really matter. What I do know is that on December 11th, I woke up and headed to St. Luke's. I can't explain it but I was driven to be at the 7:45 service. I believe God lead me there so I could feel his warm embrace which I and my girls received through each encounter I had that morning and the weeks, months and years that follows.
I believe we are presented with choices in life and that is God presenting us with options. God gave us the gift of free will and we must decide what to do in that moment. I also believe no matter what we choose God will walk the path with you and continually give you a new opportunity to change your direction. 
I have come to believe it does not matter how far you stray from God he is always with you even if you don't want to see or believe.
Remember maybe that tough break you suffer, is God trying to lead you to another path which will bring back to path God intended for you in the first place.  
Remember God loves everyone no matter what we do, and he will always forgive us. God walks besides each one of us even when we reject him and do not believe in him.
May you see the light of God within yourself but if you can't see it within yourself, remember everyone has the light just look around. I am positive they are willing to share their light because they did for me and my girls.
Anna Pilkington
We are so pleased you have joined us online at St. Luke's.
And, we invite you to make a Special Christmas Gift Offering to help us
continue our outreach efforts, especially during the pandemic.