Mary voices radical humility
December 22, 2021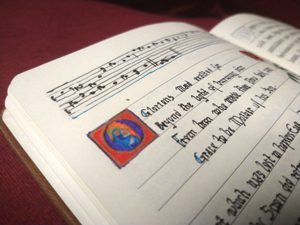 Psalm 113 or Psalm 122 | 1 Samuel 1:19-28 | Luke 1:46-56
As a chorister, I grew up singing the Magnificat, the song of Mary, whenever we did Evensong. I still sing it every Sunday at my church in Birmingham, England. I love that the words of a young woman are sung daily, both historically and in the present day in many Anglican cathedrals.
The message of the Magnificat is profound: 'He has brought down the powerful from their thrones and lifted up the lowly; he has filled the hungry with good things and sent the rich away empty' (Luke 1:52-53). Mary sees the great change that God works in the world — change that God works through her. She plays a central role in God's vision — a role which, in my opinion, we don't acknowledge nearly enough — and she knows it.
Mary acknowledges both her importance and her status as a humble girl: 'he has looked with favor on the lowliness of his servant. Surely, from now on all generations will call me blessed' (Luke 1:48). Mary voices radical humility, one which is neither proud nor self-denying. She sees that she is special, not of her own power but by God's. Through God's power, she can change the world: 'the Mighty One has done great things for me, and holy is his name' (Luke 1:49). By magnifying God, Mary expresses her own value as God's servant and child.
She's not alone. The first reading for today is from the book of Samuel and follows the story of his mother, Hannah. When Hannah has trouble conceiving, she prays to God to give her a child. When her son Samuel is born, she offers him up to God: '"For this child I prayed; and the Lord has granted me the petition that I made to him. Therefore, I have lent him to the Lord; as long as he lives, he is given to the Lord"' (1 Samuel 1:27-28). Samuel goes on to be an important prophet, thanks to the work of his mother. Like Mary, Hannah knows that all good things come from God. By being vessels of God's grace, both women go on to do great things. Such gratitude and selflessness is how we realize the great potential God has for each of us.
Charlotte Palmer
We are so pleased you have joined us online at St. Luke's.
And, we invite you to make a Special Christmas Gift Offering to help us
continue our outreach efforts, especially during the pandemic.