Live fully into this love relationship with God.
December 24, 2021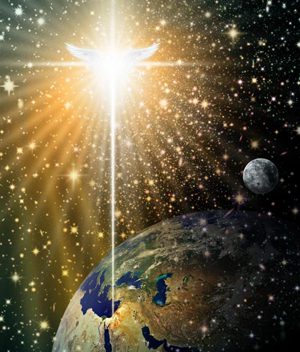 Isaiah 9:2-7 | Titus 2:11-14 | Luke 2:1-14(15-20) | Psalm 96
Today's readings proclaim God's gift of divine love that has been, is, and always will be with us. To start us off, Isaiah foretells of the Wonderful Counselor and Mighty God whose authority will grow continually and bring endless peace. The psalmist asks the whole earth to sing of our Lord, the King of all creation –declare his glory and wonders among all peoples, let the heavens rejoice, the earth be glad, let the sea thunder, the fields be joyful, and the trees of the wood shout for joy! Titus reminds us that God's grace came to us through the infant Jesus, a vulnerable, innocent child, whose life was given to bring salvation to all. Luke, finally, recounts the good news of Jesus's birth and the angels' declaration of His birth to the shepherds. They saw the star, made their way to Bethlehem, saw the child, and made known what they had been told about Jesus. All who heard their story were amazed. But Mary, she listened, she "treasured all these words and pondered them in her heart".
As I considered these readings and what Mary might have pondered, I recalled the hymn Love Came Down at Christmas, based on the poem by Christina Rossetti…
    Love came down at Christmas,
    love all lovely, Love divine;
    Love was born at Christmas;
    star and angels gave the sign.
    Worship we the Godhead,
    Love incarnate, Love divine;
    worship we our Jesus,
    but wherewith for sacred sign?
    Love shall be our token;
    love be yours and love be mine;
    love to God and others,
    love for plea and gift and sign.
The wonder of this 'Love all lovely', and the proclamation of this Love made known by the star and angels – Mary took it all in and pondered it. Yes, she had been prepared, had been visited by the angel, but now Love was here and a new relationship with God was upon her and us. Like Mary, in some ways and on a much smaller scale, I am reminded that I too have been prepared. I was brought up in the church, was taught and studied the scriptures and lessons, and went on to continue my faith journey with the help of you and others. However, I still ponder how to live fully into this love relationship with God.
The hymn says that love will be our token, our sign…love to God, love to others, and (the psalmist would add) love to all creation. So, as this eve approaches, I wonder anew at this gift of love and how I respond. If I live what I believe, then this is a gift to be shared. Shared in the way I receive and approach others, in the way I regard and care for our creation, and by way of the decisions or choices I make in my daily life. It is not easy, and I often miss the opportunity to make love known. But, I must say that in community with you, my friends, I am learning over and again how to be a part of paying this gift forward. I pray that it will grow continually and flow into all we do together, bringing us closer to that endless peace foretold by the prophet. 
Deborah Collins
We are so pleased you have joined us online at St. Luke's.
And, we invite you to make a Special Christmas Gift Offering to help us
continue our outreach efforts, especially during the pandemic.