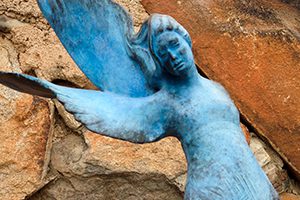 Psalm 23 | Isaiah 25:6-9 | Matthew 15:29-39
This verse comes from Praise to the Lord in the book of Isaiah. The poem tells of how the Lord has protected those who put their faith in Them and how They comfort the people of God. This poem is a look back on what has been done for the people of God and how we can find solace in God. Right now, we as a faith community are not only preparing for the coming of Jesus, but we are also preparing emotionally for a different type of Christmas. This year we will not be able to gather with our family and friends to do all of our usual Christmas traditions and while not all the carols may be sung, and not all the halls decked, Isaiah's poem speaks to us as a reminder of God's comfort. This Christmas season will be fraught with feelings of abnormalcy that could make even the most merry want to cry but it is important to remember that the cheer of the season comes from within us and our loved ones, not from traditions and in that way the Lord will wipe the tears from our faces.
Caitlyn Holmstedt
We are so pleased you have joined us online at St. Luke's.
And, we invite you to make a Special Christmas Gift Offering to help us
continue our outreach efforts, especially during the pandemic.