Start conversations. Ask questions. Explain why.
February 19, 2021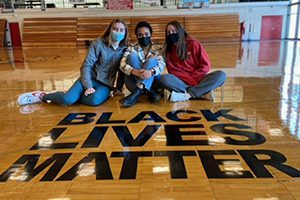 Isaiah 58:1–9a | Matthew 9:10–17 | Psalm 51:1–10
Might these days of Covid-19 during Lent of 2021 occasionally echo those befuddling days when – instead of fasting in sackcloth and ashes and, to the dismay of self-righteous Pharisees and of John the Baptist's pious penitents — Jesus and his disciples dined with tax collectors and other sinners for whom he'd come to proclaim the good news of God's love?
This week, for example, three members of the Rogers High School girls' basketball team appeared before the Newport School Committee to explain why, thanks to their initiative, that school's gym floor now proclaims in removable-vinyl letters: BLACK LIVES MATTER.  
"I think the main purpose of this is to start conversations," one explained, "for people to be able to ask questions about it, and for people like me to explain why Black lives matter and how we are being suppressed."  For example, a school committee member noted, the prison population of the U.S. was 270,000 in the 1970's and has 2.3 million today, and 70% are of color.
As Isaiah once quoted the Lord, "Is not this the fast that I choose: to loose the bonds of injustice…?"  Perhaps, in the words of Amanda Gorman's inaugural poem, 
                   We've learned that quiet isn't always peace
                   And the norms and notions
                   of what just is
                   Isn't always just-ice
                   And yet the dawn is ours…
Marie Hennedy
Picture credit: https://whatsupnewp.com/2021/01/black-lives-matter-at-rogers-high-school/