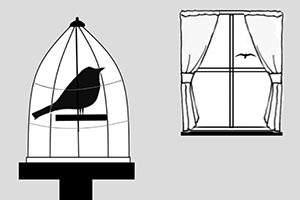 Psalm 103:1-10 | Isaiah 40:25-31 | Matthew 11:28-30
In today's lessons from Hebrew scripture, we read of God's power and strength; a God who forgives our sins, heals our sickness, redeems us from the pit of despair and even provides vindication for the oppressed. Both Isaiah and the psalmist employ the image of an eagle as a metaphor for God's power and majesty. Those who wait on the Lord "shall renew their strength and mount up with wings like eagles."
But lately I have not been feeling particularly strong, and I feel a lot more like a bird in a cage than an eagle soaring to the mountaintop. Our plans for Christmas are in doubt. There is political discord. We're all wearing masks and avoiding contact with other people. While my family has been blessed with health, and a home with food and financial security, I know that many in our community are suffering, and some are truly standing at the edge of the pit of despair. I need to be reassured that God is present and acting with power in the world. I have found some comfort in the words of one of our Eucharistic prayers:
Open our eyes to see your hand at work in the world about us. Deliver us from the presumption of coming to this Table for solace only, and not for strength; for pardon only, and not for renewal. Let the grace of this Holy Communion make us one body, one spirit in Christ, that we may worthily serve the world in his name.
We're not able to share the Eucharist together right now, but within our Christian community – the Body of Christ –- we can not only seek and find consolation and pardon, but we are also encouraged to pursue strength and renewal. There is work to do. We are invited to serve the world in Jesus' name. And while our heavy burdens are making us weary, Matthew reminds us that Jesus is gentle and humble in heart; his yoke is easy, and the burden is light.
Be encouraged. We'll be soaring again soon.
Paul Brookes
We are so pleased you have joined us online at St. Luke's.
And, we invite you to make a Special Christmas Gift Offering to help us
continue our outreach efforts, especially during the pandemic.