Restore Us
December 19, 2021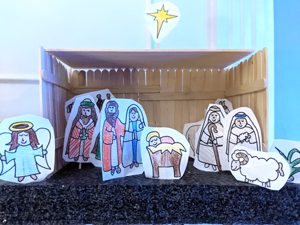 Micah 5:2-5a | Hebrews 10:5-10 | Luke 1:39-45 (46-55) |Canticle 15 (or 3) or Psalm 80:1-7
The birth of Christ brought a much-needed light into the world. Each year our collective Christmas tradition includes celebrating that light by putting festive lights in our homes and communities. Driving home at night to Wickford village this time of year, I find my street illuminated by trees, shrubs, thresholds, rooflines and fences adorned with white and sometimes even multi-colored lights (formerly frowned upon by the historic society). The scene warms my heart and restores my soul. 
The lights at this time of year are a gift, a reminder that God sent Jesus into the world as a light for mankind. Many times, as Advent approaches, it finds us in the dark – tired and uninspired or, worse yet, despairing and downtrodden. But the light of Christmas inescapably surrounds us, offering its restorative power. The light is of and from God, who lifts up the lowly and fills the hungry with good things. 
May the light of this Advent season, which first came to the world in the form of a baby in a manger, lift us all up, fill our souls, and restore us in the knowledge and love of God. 
Stacey Nakasian
We are so pleased you have joined us online at St. Luke's.
And, we invite you to make a Special Christmas Gift Offering to help us
continue our outreach efforts, especially during the pandemic.