Reach out and share
March 17, 2021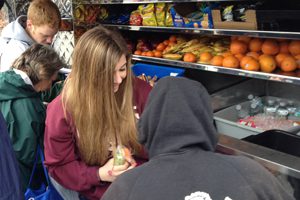 Isaiah 49:8–15  |  Psalm 145:8–19  |  John 5:19–29
They shall feed along the ways,
on all the bare heights shall be their pasture;
they shall not hunger or thirst,
neither scorching wind nor sun shall strike them down,
for he who has pity on them will lead them,
My view of church and religion used to be celebrating sacraments (e.g. baptism, Marriage, etc.) and events around Jesus' life (e.g. birth, death, resurrection).  But as my journey continues, I realize it is so much more and it includes reaching out to those in need – giving of oneself.  We are bigger than our church and can reach beyond limits of our church property to feed, clothe and provide shelter.  Feeding ministries like Theology On Tap Harrington Hall dinners, The Food Pantry, the community Dinners, Lunch on the Hill, and Loaves and Fishes to name a few.  How satisfying the feeling to reach out and share a conversation, a piece of bread, some clothing, or furniture.
When we take some time out of our own crazy lives to experience someone else's life we can appreciate the world around us a lot more.  God Bless.
Eric Holmstedt