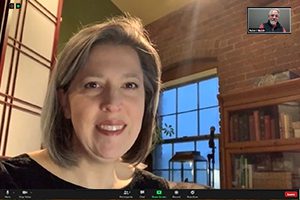 This time of year I am often blessed with the problem of finding gifts for "people who have everything". How to find a gift that says "you're special", for a mother scaling back her possessions, or a friend who has never known hesitation with the American Express card? And if that person doesn't drink and has given up sweets…good grief.
Years ago, my brother and I stopped buying birthday gifts for each other. Instead, we buy dinner out together each time one of us visits our opposite coasts of the US, any time of year, and say "Happy Birthday". Those precious birthday dinners require fourteen hours of flying and several days out of work. They require convincing antsy kids and frugal grandmas that going out to dinner can be more fun than video games, and that it's worth spending money to pin everyone at the same table for an hour and a half. Finally, we sit around that table and joyfully laugh together. And then we talk for the next three days about what we laughed about.
In today's psalm God emphatically tells us there is no material gift we can offer; God already has everything. "The world and all that is in it is mine". God tells us the acceptable offerings are our thanksgiving, and our vows – our commitment. God also asks us to call out in our trouble, and promises to deliver us. God asks us to ask him to deliver us. Imagine, here we are in (no adjectives needed) 2020, and God is there, hoping to hear our call, waiting to extricate us from the thorns we find ourselves tangled in.
In today's Gospel, Matthew tells us that God searches for each of us as a shepherd searches for even one lost sheep. "It is not the will of your Father in heaven that one of these little ones should be lost". A little while later in 25:40 Matthew writes "And the King will answer them, 'Truly, I say to you, as you did it to one of the least of these my brethren, you did it to me". Christ asks us to see God in every fellow human, and praise God with our love for them. Perhaps today we are asked to see God in ourselves, to search, and bring the lost ones home.
I'd like to think that in the juxtaposition of today's Advent readings we learn what God wants for Christmas. This Advent can we lead someone home to the fold of our Good Shepherd? Can we praise God by looking so joyful in these dark days, whether in a grocery store line or on a Zoom call, that others will want to know what we're up to? Can we search for opportunities to truly listen to our neighbors, and share our gratitude for what Christ gives us with those who listen to us? Who is calling out for God's help? Who will make the journey home with us when on December 25th we say "Happy Birthday" to Christ our savior?
Sarah Curtis
We are so pleased you have joined us online at St. Luke's.
And, we invite you to make a Special Christmas Gift Offering to help us
continue our outreach efforts, especially during the pandemic.