My eyes smiled at hers, above our respective masks, and she reached for me.
February 25, 2021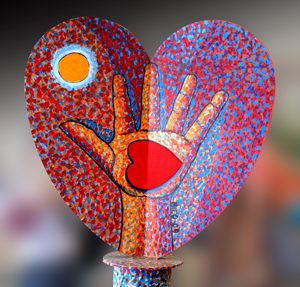 Esther (Apocrypha) 14:1–6,12–14  |  Matthew 7:7–12  |  Psalm 138
"When I called, you answered me,
You Increased my strength within me…
The Lord will make good his purpose for me…" 
Psalm 138
Maria (not her real name but it easily could be) is 96 years old. She speaks only Portuguese. And her Portuguese is convoluted by advanced dementia – I'm not sure what kind. I don't know her well. This day she sat near a hall window in our long-term nursing-care unit, while her breakfast settled, with tears in her eyes.
Before the COVID-19 lockdowns her daughter came every day for lunch and her son every day for dinner. Now they stand in the snow at the window, but meals are not the same. Now she's surrounded by aliens like me in protective gear. As I passed, my eyes smiled at hers, above our respective masks and through my face shield, and she reached for me. I donned a set of gloves from the nurse's cart, wrapped an arm around her shoulders, and she took my hand and held it against her cheek, smiled and chattered happily to me in Portuguese for a couple of minutes, while I chattered in English to her about the day and the weather. We nodded and smiled, and laughed a little. We didn't understand each other, but we did. Each was there to care for the other, to see beyond masks and feel beyond gloves and listen to the music of each others' voices. I didn't tell her I'd just learned one of my patients on the post-acute rehabilitation unit, where I would soon spend the rest of my day, had left for the hospital early that morning and not survived. Didn't need to. 
Sometimes an opportunity to see God in another person's eyes can nearly escape in the speed of the day. Sometimes the answer to a prayer is an outstretched hand where it's least expected. I believe as we accept countless tiny missions on countless different days, the sum of our collective purposes is the stuff of miracles. The Lord will make good his purpose for me.
Sarah Curtis