Matthew 6: 1, 5-6
February 17, 2021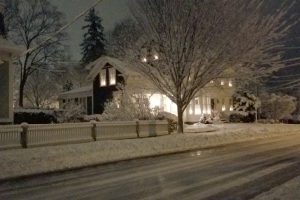 Joel 2:1-2,12-17 or Isaiah 58:1-12 | 2 Corinthians 5:20b-6:10 | Matthew 6:1-6,16-21 | Psalm 103:8-14
Matthew 6:1, 5-6
Jesus said, "Beware of practicing your piety before others in order to be seen by them; for then you have no reward from your Father in heaven.
But whenever you pray, go into your room and shut the door and pray to your Father who is in secret; and your Father who sees in secret will reward you."
Solitude. Aloneness. Introspection. Prayer. As we begin our Lenten journey, the liturgy for Ash Wednesday invites us to "the observance of a holy Lent by self-examination and repentance." While we are members of the Body of Christ, and value the importance of worshipping together as a community – something we are so missing during this past year – we first must focus on ourselves, and our relationship with God. It's been illustrated as the 'vertical' relationship, which is critical to all our 'horizontal' relationships with those among us. Just as Jesus went into the wilderness alone, or sought solitude in the garden, we too must seek out our one-on-one time with God.
Like many, I enjoy walking as a form of exercise and the refreshing of perspective. However, instead of heading out at the crack of dawn, or at midday, I find myself preferring to prowl the Hill at twilight, or after dark. It's much quieter, with less traffic, and I can pace along with my thoughts, speaking to God and listening for His voice. Each season presents delights and discoveries, whether along the streets, or in the skies above. There are treats for the senses, whether it be the fragrance of a blooming viburnum bush on Spring Street, a dazzling full moon above, a strong West wind, or, if it's a Tuesday night, a familiar hymn being played on St. Luke's Tower bells.
In the midst of this snowy winter, a recent nocturnal walk in the aftermath of a storm offered up a true wonderland. Clad in snow boots, I made fresh footprints in the street, as a favorite, but lesser-known, Robert Frost poem came to mind:
I had for my winter evening walk –
No one at all with whom to talk,
But I had the cottages in a row
Up to their shining eyes in snow.
And I thought I had the folk within:
I had the sound of a violin;
I had a glimpse through curtain laces
Of youthful forms and youthful faces.
I had such company outward bound.
I went till there were no cottages found.
I turned and repented, but coming back
I saw no window but that was black.
Over the snow my creaking feet
Disturbed the slumbering village street
Like profanation, by your leave,
At ten o'clock of a winter eve.
Interestingly, despite its tones of loneliness and melancholy, the poem is titled "Good Hours," perhaps an indication that the 'evening walk' offered a time of reflection and self-searching. Indeed, the author, after venturing past the lighted homes, 'turned and repented', but those windows that had glowed from within now were dark. 
So where is the light to illuminate the conclusion of this poem? My own 'good hour' walking in this marshmallow world brought my own creaking feet back to my home, and its shining eyes to welcome me. Treasured too was the time spent with God, unscripted, with my soul open to the heavens, endeavoring to strengthen that 'vertical' relationship.   
These days, many of us may understandably feel that there has been too much solitude, leading to isolation, loneliness and detachment. Even the self-identifying introverts may have had enough. We yearn to gather back together in warm proximity to worship and celebrate. It's coming, but first there are more long and cold winter nights, and our forty days of Lent. Just as I search the night sky for a shooting star, so may I search my soul within, and keep that holy Lent.
Laura Sullivan