Love Story
December 21, 2021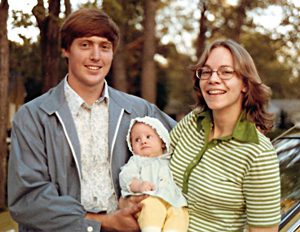 Psalm 33:1-5, 20-22 | Song of Solomon 2:8-14 | Luke 1:39-45
Don't you love a great story? The men of Theology on Tap have been talking a lot about stories this past year. We've focused our attention on discovering ways to record our own stories as a legacy to be passed on to our families. But we have also recognized the larger role that storytelling plays in shaping our own lives, the lives of our families and communities. Stories can inform, amaze, delight, and sometimes warn or frighten us. Cave dwellers were drawing their stories on the walls of their caves 30,000 years ago and by the 3rd century BC the Sumerians were saving their stories on clay tablets. Storytelling is built right into our human DNA – we need to share our stories with one another.
We owe great gratitude to the writer of Luke's gospel as it is through his storytelling that we recognize so many of the images and characters that shape our Advent and Christmas traditions. His stories and characters are described in such rich detail and complexity.  In the first chapter of Luke's gospel, we're introduced to two kinswomen who have just experienced remarkable events in their lives. Elizabeth (the wife of Zechariah) finds herself expecting, long after her hope of ever having a child had disappeared.  And a young woman named Mary has been visited by an angel named Gabriel who brings the news that even though she is a virgin, she will conceive a child through the power of the Holy Spirit. "I am the Lord's servant," Mary answers. "May your word to me be fulfilled." 
In the lesson assigned for today, we are told that Mary has hurried to the hill country to visit Elizabeth. As Mary enters the house, the babe in Elizabeth's womb (John the Baptist) leaps in the presence of the unborn Lord Jesus. What a wonderful story! I can just imagine the look on Elizabeth's face. And I don't know of any other story where two of the main characters are introduced in utero. This story also serves as an introduction to the beautiful ancient Christian hymn known as The Magnificat, or the Song of Mary which we incorporate into our liturgy for Evening Prayer.
This story has special meaning for me and my family. In the year before we were married, Janet was working at an office in Torrington, CT. During her lunch hour she would sometimes walk to a nearby church for a few quiet moments alone. In that church was a stained-glass window which illustrated this story of the meeting of Mary and Elizabeth. As Janet looked at that window, in that peaceful setting, she was inspired to say to herself, "If ever I am blessed with a daughter, I will name her Elizabeth Mary." Three years later, our first and only child was born. As it was a girl, her name had been chosen.  Elizabeth Mary Brookes (Gordon). 
I love that story.
Paul Brookes
We are so pleased you have joined us online at St. Luke's.
And, we invite you to make a Special Christmas Gift Offering to help us
continue our outreach efforts, especially during the pandemic.