From jeremiad to joy
March 26, 2021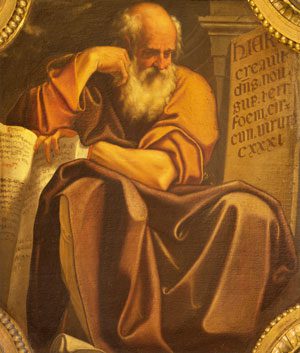 Jeremiah 20:7-13 | John 10:31-42 | Psalm 18:1-7
How "down in the mouth" was Jeremiah, author of today's first reading? So down, he inspired the modern word "jeremiad," which means "a prolonged mournful complaint." That pretty much sums up his writings. In addition to the Biblical book that bears his name, Jeremiah is the author of the Old Testament's Book of Lamentations.
Known as the "weeping prophet," Jeremiah did not have it easy as he railed at the Hebrews about their sinful ways and the punishment from God that would follow. He tells us he has become a laughingstock because of his dire warnings. Yet if he tries to silence his tongue, "there is something like a burning fire shut up in my bones; I am weary with holding it in, and I cannot."
In the reading, Jeremiah's description of the Lord as a "dread warrior" sounds harsh to my New Testament-attuned ears, as does his wish to see God exact retribution upon his enemies. What a contrast to the voice we heard last Sunday in Jeremiah 31, which Tanya preached on. In one passage from that chapter, Jeremiah quotes the Lord as saying, "I will make a new covenant with the house of Israel… I will put my law within them and I will write it on their hearts… I will forgive their iniquity, and remember their sin no more."
Jeremiah lived six centuries before Jesus, but if look we deeply into his words – thanks, Tanya – we can glimpse beliefs that eventually would find their way into the tenets of Christianity. He speaks of a loving and forgiving God, and hints of a world where "an eye for an eye" will be supplanted by "turn the other cheek."
I find this discovery heartening as we move through the season of Lent. It reminds me that as springtime days grown longer, our Lenten reflections and repentance give way to the light and embrace of Easter.
Far from a jeremiad, our Lenten story becomes one of joy.
John Walsh