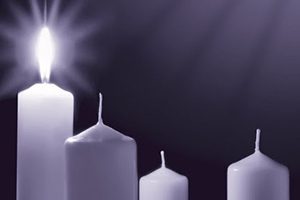 Today is the First Sunday of Advent. Advent is upon us. That season of waiting. Of anticipation. Of expectation. I usually rush headlong into Christmas, delighting in all the cheer, glad tidings and good will that comes with this time of year. But did you read today's lessons? They are filled with some pretty troubling stuff to kick off this season of joy. They present a backdrop of fear and isolation. Of anger, derision and scorn. Of a darkened sun and a moon without light. Of bowls of tears to drink, no less! O God, please, I pray. I've felt so much fear and worry this year. No more. It feels like we've been in a season of advent for 9 months already. Waiting for deliverance from a virus that pursues us at every turn, that has upended every aspect of our lives. Our hearts groan to be freed from, very literally, this ravaging plague. It does not get more Biblical than this! Three times in today's reading from the Book of Psalms comes the plea, "Restore us, O God of hosts; show the light of your countenance, and we shall be saved." This Advent, more than any in my life, this plea resonates with my very core.
So I'm thinking maybe this isn't the year to rush into all the merriment of the season. Maybe this is the year I need to sit with these feelings for a while. To own my brokenness. To think about what needing salvation, what longing for a Messiah, is really all about. If we take the time to do that, then maybe as each Advent candle is lit, as the darkness recedes and the light of Christ's love overcomes, the joy will be all the more sweet. The glad tidings will be all the more heartfelt. The Christmas hymns will have all the more meaning. "Long lay the world, in sin and an error pining, 'til he appeared and the soul felt its worth. A thrill of hope, a weary world rejoices. For yonder breaks, a new and glorious morn."
So as we wait for what is to come but has already happened and will happen again, we take Paul's promise to the Corinthians to heart.  As we wait for the revealing of our Lord Jesus Christ, he will strengthen us to the end.
Gary Schweizer
We are so pleased you have joined us online at St. Luke's.
And, we invite you to make a Special Christmas Gift Offering to help us
continue our outreach efforts, especially during the pandemic.