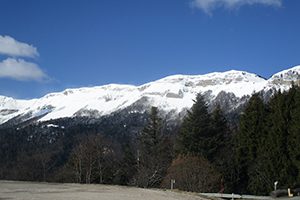 Psalm 145:1-4,8-13 | Isaiah 41:13-20 | Matthew 11:7-15
I love Advent. Sure it's the run-up to Christmas, sure it has some lovely symbolism, like the Advent wreath and the Advent calendars and candles. But I love it because it is dramatic. Before we get the serenity of 'Silent night, holy night', we get mountains flattened and deserts blooming. Through Isaiah, God says, 'I will open rivers on the bare heights, and fountains in the midst of the valleys; I will make the wilderness a pool of water, and the dry land springs of water' (Isaiah 41:18). 
I have always loved the drama, especially revelling in it when singing hymns or reading lessons (for the Advent Lessons and Carols at college, I requested a passage from Isaiah, hoping for something like this). But there's a deeper significance to it, what makes it so exciting and also a fair bit scary. God is asking us to imagine a completely different world. What would the world be like with the mountains lowered? What about with the mighty put down from their seat? Are we prepared to live in a levelled world, or would we miss the view?
 Jesus observes the tendency of people to shy away from difficult change. He asks the crowd about John the Baptist: '"What did you go out into the wilderness to look at? A reed shaken by the wind? What then did you go out to see? Someone dressed in soft robes? Look, those who wear soft robes are in royal palaces."' (Matthew 11:7-8). The changes John the Baptist demanded were not the ones people wanted to make happen. But they were the ones needed to prepare for Christ.
My favourite passage of Isaiah, chapter 61, is much more reassuring. Isaiah speaks of bringing good news to the poor, freedom to the captives, comfort to those who mourn. The changes that God brings make for a fairer, more just society. When I'm frightened by the drama of change, I think about lions and lambs lying down together. We need God's change to bring about that reality. This year, more than ever, has made it clear to me how dramatic that change has to be. The status quo of 2019 was not tenable when 2020 came; 2021 and 2022 and 2023 will have to look quite different. But I believe that if we can embrace the change, as dramatic and frightening as it might be, then there will be good on the other side.
Charlotte Palmer
We are so pleased you have joined us online at St. Luke's.
And, we invite you to make a Special Christmas Gift Offering to help us
continue our outreach efforts, especially during the pandemic.