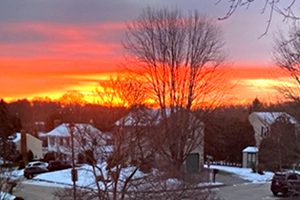 Psalm 35:1-5, 20-22 | Zephaniah 3:14-18a | Luke 1:3 9-45
I am a "glass is half full" kind of gal. I can and will look at the world with rose-colored glasses all day long. This year, 2020, has made it very difficult for me to do that. I work as a nurse in a hospital, amidst a pandemic. With a surge in patients, and limited space to put them, and limited staff to take care of them, it is hard to not be terrified every single day. Besides the pandemic, there is so much negativity surrounding us, politics, racism, bigotry, fighting, choosing to rebel against CDC Guidelines…. after all, it is 2020, right? What else could possibly go wrong?
My rose-colored glasses got buried in the negativity, and something happened during the summer that made me fight with everything I had to find them. God stuck right by my side, arm in arm, and helped me shield myself and my family from the hate and negativity. We are a family that loves with everything we have. We have learned to savor in the greatness and wonder of every simple thing, and we choose love over hate, happiness over gloom, kindness and understanding over judgement. We have a whole new appreciation for what we have, and the people in our lives. We have opened our eyes wider to the good happening around us. We have embraced being home, just the four of us. We have enjoyed having family dinners around the table every night.
 So, Lord, please continue to contend with me, and those who contend with me. Brandish your spear and javelin against this unprecedented year of 2020, and fill us with happiness, gratitude, and hope for the years to come.  AMEN.                     
Dawn Packer
We are so pleased you have joined us online at St. Luke's.
And, we invite you to make a Special Christmas Gift Offering to help us
continue our outreach efforts, especially during the pandemic.