God's spirit is infinite.
March 20, 2021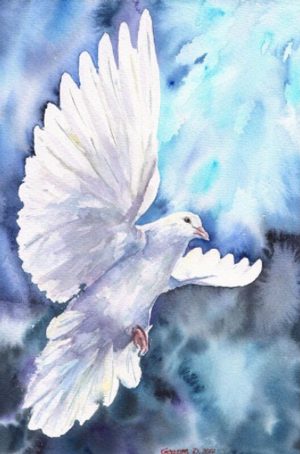 Jeremiah 11:18–20 | John 7:37–52 | Psalm 7:6–11
John 7:37–52
"On the last day of the festival, the great day, while Jesus was standing there, he cried out, "Let anyone who is thirsty come to me, and let the one who believes in me drink. As the scripture has said, 'Out of the believer's heart shall flow rivers of living water.' Now he said this about the Spirit, which believers in him were to receive; for as yet there was no Spirit, because Jesus was not yet glorified."
John indicates in this passage that the Spirit did not exist because Jesus had not been glorified or had not yet risen.
We celebrate Pentecost, 7 Sundays following Jesus' resurrection on Easter, when the Spirit of God came down from heaven. The Apostles and peoples of different languages and cultures spoke the same words in their own tongues because of the presence of the Holy Spirit.
However, in other passages in the Bible, there are references to the Holy Spirit existing prior to Pentecost. We find in Matthew 3:16-17 that Jesus was the first to receive the Holy Spirt when the dove descended and anointed Him, during His baptism and God spoke directly to him. "After baptism Jesus came up out of the water at once, and at that moment heaven opened; he saw the Spirit of God descending like a dove to alight upon him; and a voice from heaven was heard saying, "This is my Son, my Beloved, on whom my favor rests."
And yet there are other references that indicate that the Holy Spit was "alive and well" prior to Jesus' birth. In several sections from Luke there are multiple references to the Holy Spirt.
Luke 1:16  –  An angel of the Lord appeared to Zachariah and indicated that Elizabeth, his elderly wife, would bear a child named John. "From his very birth he [John] will be filled with the Holy Spirit…"
Luke 1:34-35  –  An angel of the Lord also appeared to Mary saying "The Holy Spirit will come upon you, and the power of the Most High will overshadow you; and for that reason the holy child to be born will be called 'Son of God'."
Luke 1: 41-42  –  "And when Elizabeth heard Mary's greeting, the baby stirred in her womb. Then Elizabeth was filled with the Holy Spirit and cried aloud 'God's blessing is on you above all women, and his blessings on the fruit of your womb'."
I've always believed that with God there has never been a beginning. God is! God is infinite… no beginning and no end. I also believe that the same thing is true for the Holy Spirit. For just as there is an infinite God, God's spirit is infinite.
Doreen C. Putnam