Break open (your heart) and never close again to the rest of the world.
February 28, 2021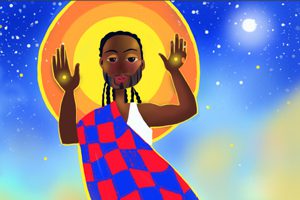 Genesis 17:1-7, 15-16 | Romans 4:13-25 | Mark 8:31-38 | Psalm 22:22-30
"He called the crowd with his disciples, and said to them, "If any want to become my followers, let them deny themselves and take up their cross and follow me. For those who want to save their life will lose it, and those who lose their life for my sake, and for the sake of the gospel, will save it."
– Mark 8:34-35
Years of therapy and self-reflection have taught me that so often when I am angry or frustrated by something, it traces back to my expectations of a particular time or person not being met. Most of the time, these expectations are subconscious–I don't realize I have them and I certainly fail to communicate them to the other person–so life is bound to fall short of these unspoken hopes sometimes. Understanding that I do in fact have these ideals and learning to acknowledge and name them and tweak as necessary has been central to repairing and navigating relationships with family and friends as well as learning to be gentle with myself. I've learned to set realistic goals for these eternal pandemic days home with kids and to discuss division of labor and family life with my partner, helping us not bicker about whose turn it is to do the dishes.
Jesus' ministry and preaching would have been difficult at the time for someone like me. He took every expectation of what the Messiah was prophesied to be and turned it on its head. In the passage in Mark just before today's gospel, Jesus and Peter are discussing who Jesus really is: "Who do you say that I am?" (Mk. 8:27) And Peter, as so rarely happens, gets it right: "You are the Messiah." 
But then Jesus goes on to describe what it means to truly be the Anointed One: "Jesus began to teach his disciples that the Son of Man must undergo great suffering, and be rejected by the elders, the chief priests, and the scribes, and be killed, and after three days rise again." (Mark 8:31) 
Hold on. 
That is not what Peter or any of the disciples understood about the Messiah they were so eagerly anticipating. The promised savior was expected to be one of great military might, ready to conquer enemies, flush with worldly power and glamour. Jesus's explanation of pain, rejection, and ultimate death is about as far as possible from his follower's expectations of who he would be. How could someone weak enough to suffer and be killed save them at all? 
And yet, here is the gospel at work: all of our expectations, understandings of power and prestige and worldly success are flipped on their head. True leadership is servant leadership, true power is in gentleness, and love always wins over might. Note that Jesus isn't asking us to seek out and undergo suffering unnecessarily: he invites us to take up our crosses, not find someone else's. We all experience pain in our own lives and deciding to follow Christ undoubtedly will entail some suffering. The call is to not run from the darkness, but to light candles instead. 
Our Lenten journey is leading us toward Holy Thursday and Good Friday, for both the cross and the empty tomb on Easter are central to our faith. But it is not to glorify suffering, nor, I would argue, is it about Jesus as a scapegoat for all of our sins. Rather, it is a story that "ruins us for life," to borrow the motto of the Jesuit Volunteer Corps. Once we've given ourselves over to the way of love and the cross, we can never be the same again, even though that might mean coming face to face with our own self-serving expectations. Losing our life for the sake of the gospel means jettisoning every ideal of power we thought we knew and instead embracing the margins, the most vulnerable, the weak and the outcast. Mary Oliver's poem, "Lead" explains it perfectly:
I tell you this
to break your heart,
by which I mean only
that it break open and never close again
to the rest of the world.
How will our lives be transformed when we allow our hearts to fully break open and embrace the rest of the world? Can we risk losing some of our comfort this Lent and realign our expectations with the new vision Jesus gives us?
Angie Howard McParland
Painting credit: Artist Mickey McGrath, OSFS