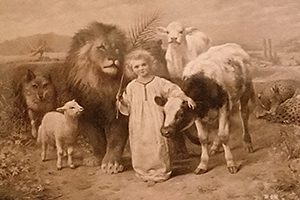 Isaiah 11:1-10 | Psalm 72: 1-8 | Luke 10:21-24
 The wolf shall live with the lamb,
the leopard shall lie down with the kid,
the calf and the lion and the fatling together,
and a little child shall lead them.
 The cow and the bear shall graze,
their young shall lie down together;
and the lion shall eat straw like the ox.
 The nursing child shall play over the hole of the asp,
and the weaned child shall put its hand on the adder's den.
 They will not hurt or destroy
on all my holy mountain;
for the earth will be full of the knowledge of the Lord
as the waters cover the sea.
 On that day the root of Jesse shall stand as a signal to the peoples;
the nations shall inquire of him, and his dwelling shall be glorious.
– Isaiah 11:6-10
I have always loved these winsome images, offered by the prophet Isaiah. Known as "The Peaceable Kingdom," such gentle co-existence appeals to the animal lover in me. Why shouldn't the lion dine on straw, like the ox? For that matter, why can't all those ferocious carnivores become vegetarians? Then we wouldn't have to worry about a hawk swooping down to scoop up a kitten, a fox pouncing on a cat at sunrise, or the neighbor's unleashed.dog entering our yard to chase down and kill another one of our cats. All personal tragedies in the Sullivan household.
Sigh.
But then, this is all Nature being Nature, and God's divine plan, which is so perfectly crafted that we, in our limited understanding, cannot fully grasp or understand its design, much less attempt to alter it. This passage, of course, is an allegory describing God's Kingdom, and the Messianic prophecy of how a Baby comes into the world to save the world from itself, as it is reconciled to its Maker. Natural predators and their prey will live in harmony, "and a little child will lead them." It's said that a baby is God's assurance that the world will go on, and this Holy Child, for whom we start our Advent vigil, is assurance indeed.
In similar fashion, God's vision of innocence, hope, and acceptance will extend to the human race, so there will be no need for wars, hatred, prejudice, suspicion and divisiveness. In short, we won't need to devour each other to survive. But can't we have some of that heavenly vision now? In the words of Rodney King, "Can't we all get along?" Certainly this year, this unprecedented year of 2020, has us asking that question often.
Because I believe there are really no coincidences in how God watches over me, I was nevertheless 'surprised by joy', to quote C.S. Lewis, by a discovery I made on Thanksgiving. We were home, of course, due to COVID restrictions, and I used some of the time on that rainy day to set up the window candles for the first Sunday of Advent. Up on the third floor, I randomly rummaged through an old bureau, where some framed items were stored. What's this? I wondered as I turned it over. An old print of an 1896 lithograph, depicting a child, holding a palm branch, and surrounded by five animals, plus a leopard lounging in the corner. The caption read, "And a little child shall lead them." Oh my. This probably belonged to my beloved grandmother, who lived here for 45 years, and wrote in my autograph book, "Be kind to dumb animals."
So, as we start the final month of this not-so-peaceable year, I am again filled with faith and hope that we will emerge from this painful exile.  "Better days are coming, Marie!" old cousin Louise would say to my grandmother.  And I trust that they will.
Laura Sullivan
We are so pleased you have joined us online at St. Luke's.
And, we invite you to make a Special Christmas Gift Offering to help us
continue our outreach efforts, especially during the pandemic.