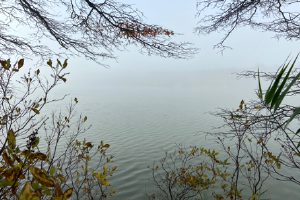 Psalm 25:3-8 | Numbers 24:2-7,15-17a | Matthew 21:23-27
Writing this blog has caused me to engage in a lot of reflection on the past year and to try to discern what our current pandemic experience and polarized politics means – to me, my community and my country. I continued to engage in a life-long habit of getting my "nature fix" from time to time: my daily walks with the dog and occasional hikes in one of Rhode Island's many scenic hiking trails, hence the picture taken at illustrating our dim view of the outlines of the future.
In Matthew 21:23-27, Jesus asks a question, and the elders argue among themselves. It's an example of human authority failing us and illustrates our need to look to a Higher Authority. But we see only dimly, as in a fog. My experience with two aspects of our American experience this year informed my thinking, namely: (1) How our country's slavery and racial discrimination past informs the present and (2) how the pandemic has sorely tested our willingness to act to further the common good. So, I agonized:  What is truth? What is reality? Where is our common ground? Yet I still believe that our country can adhere to its finest aspirations (to paraphrase Jon Meacham in The Soul of America), at least periodically.
Human authority has failed us, so we must look to a Higher Authority. So, I came to reflect on my faith and found my grounding in the values I have long held. Yet we see as if in a fog – with dimly seen outlines. My St. Luke's community and the inspiring books we shared brought hope and more clarity. Our faith will become stronger as we experience our shared Advent and anticipate Christ's coming, as we pray for discernment.
Dave Abell (with help from Ellen)
We are so pleased you have joined us online at St. Luke's.
And, we invite you to make a Special Christmas Gift Offering to help us
continue our outreach efforts, especially during the pandemic.